SOTM Tracking Antenna with No Moving Parts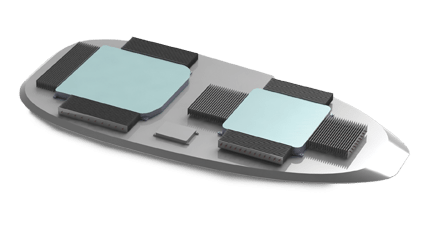 Business and military requirements are driving the surge in demand for Satellite-on-the-move (SOTM) communications. From commercial aviation to naval vessels, high-speed trains and the automotive industry, the need for broadband connectivity on mobile platforms has never been greater.
To address these markets, Gilat has developed a breakthrough electronically-steered array/phased-array antenna (ESA/PAA) technology for satellite-on-the-move connectivity. The ultra slim phased array antenna is ideal for platforms that are constrained by size and weight, such as airplanes, high-speed trains, land vehicles and yachts.
This advanced antenna electronically steers the transmission and reception beams towards the satellite (versus traditional mechanical only antenna steering), which ensures high availability operations even at the equator (no key-hole effect).
The highly scalable antenna features array dimensions that can be flexibly adjusted to optimally match specific gain requirements. Together with its low-profile form factor and versatility (Ku or Ka band), the antenna is highly suitable for a diverse range of mobile platforms and can address varied throughput performance needs.
Gilat's ESA/PAA antennas are the most mature and proven of their kind, and have already been delivered to prime customers worldwide.
Key Features and Benefits
Electronically-steered antenna with no moving mechanical parts increases reliability
Ultra-low profile less than 5cm / 2"
No "key-hole" effect for operation in equatorial regions
Low SWaP antenna for size/weight constrained platforms
Highly scalable for flexible design